WhatsApp Privacy Policy Update, Says No Effect on Individual Chats
On Tuesday, WhatsApp offered clarity on the new updating to the whatsapp privacy policy and clarified that the current reform has in no way changed the privacy of messages sent to friends and relatives. "The instant messaging platform said it wanted to "address rumours" and that it would "continue to encrypt your private messages with end-to-end encryption to protect your private messages. It said it could not see your private messages or hear your calls. It also stressed that its parent company Facebook could not read its users' messages or calls as well. The latest move arrives despite media scrutiny of WhatsApp about its last week's whatsapp privacy policy change which will be effective from February 8 onwards.
WhatsApp also launched a new FAQ article on its website discussing consumer questions regarding the privacy policy change that highlights private contact on the app.
For your friends, family, and co-workers on WhatsApp, neither WhatsApp nor Facebook will read your messages or listen to your calls. It remains between you, whatever you share," the platform said.
In order to be able to continue using the instant messaging platform, the revised privacy policy and terms of service must be enforced on February 8, and by then users would have to accept these requirements. Users who chose not to accept these modifications will not be allowed to access WhatsApp on February 8.
In a thread, it added, "Whatsapp privacy policy update does not affect the privacy of your messages with friends or family."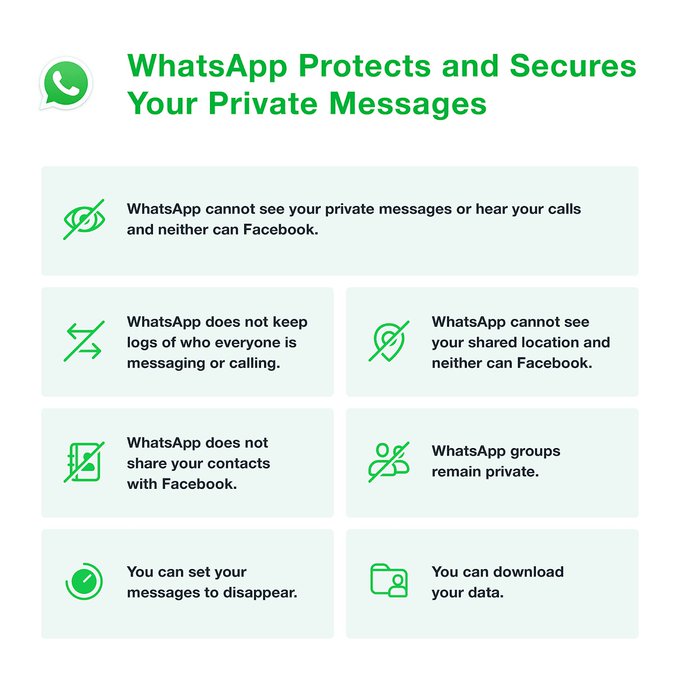 WhatsApp has said it would not hold customer communications records. "While this information is traditionally stored by mobile carriers and operators, we believe it would be both a privacy and security risk to maintain these records for two billion users and we don't do it," it noted.
WhatsApp privacy policy found out in its recently developed FAQ page on the location sharing section that it could not see the user's shared location and neither could Facebook. The network emphasised that it is end-to-end encrypted anytime anyone posts a position on their app, so it can't be accessed by anybody but the users with whom it is exchanged.
It is important to remember, though, that WhatsApp captures and uses consumer devices' specific location information. Even if you do not use our location-related features, we use IP addresses and other information such as area codes for phone numbers to approximate your general location (e.g., city and country).
Similarly, WhatsApp said it stayed private and end-to-end encrypted for community conversations on the site. To send messages and to defend our service from spam and violence, we use community membership. For promotional purposes, we do not share this information with Facebook," the FAQ page noted.
The Facebook-owned platform said the upgrade contained improvements relating to messaging firms on WhatsApp in terms of data sharing that brought about the privacy controversy.
WhatsApp's New Policy Adopted by Mistake? Is there anything right now that you can do?
In short, no. There is no way to return to an earlier privacy policy or even to avoid the current privacy policy from being implemented by the software. You actually have to embrace these improvements if you want to continue using WhatsApp, since they determine the way you communicate with this programme.
MIUI 12 Tips and Tricks For Clean and Clutter-Free User Experience
Xiaomi presented some fascinating new features with MIUI 12. Xiaomi updated the MIUI 12 look and feel, and was influenced in some features by iOS. It also has certain features which not only clear up the mess, but also speed up the access to certain applications. In this guide, we will follow you through the steps that will tidy, unwieldy and much more practical your experience of the MIUI 12.
Please note that for this tutorial the following tips have been checked on a Redmi 9 power so that certain characteristics might not be entirely different on your smartphone as Xiaomi builds different MIUI 12 models for various smartphones. The video below, which is centred on the same steps, can be viewed.
1. Enable iOS-style control centre
The notification shade normally hosts some fast settings in Android smartphones. But MIUI 12 has a quick pulldown settings called the Control Centre. To enable this:
Goto: Settings app > Display > Control centre & notification shade.
Enable the Use new control centre setting/configuration: Only go to the right half of the screen in order to access it. The cool thing is that you don't need to step on and down on the right hand side of your screen as you're doing in iOS.
2. Disable app drawer
The much-anticipated Xiaomi smartphone drawer was delivered by MIUI 12. It not only alphabetically arranges everything, but also according to its type, like Poco Launcher. But some people like the old look, which often evokes iOS. To turn it on, follow these steps:
Click an empty home screen area for a long time.
Select Settings > More.
This unlocks a variety of additional settings to choose Home Screen > Regular.
3. Lite Mode
Go on, MIUI 12 has something that you are a fan of big iOS icons. To make the same atmosphere:
 First Go to Settings > Special features > Lite mode.
Then Enable Lite mode here.
This makes the home screen tidy, but it does have a big font size. Go to Display > Text size to turn the font size down and pick the font size you want. It's really quick to turn it off if you find the Lite mode isn't for you after test it. Then go to Settings > Tap to turn off Lite mode.
4. Gesture-based navigation
MIUI 12 provides gesture-based navigation. In order to enable:
Go to Additional settings > Full screen display.
Then select Full screen gestures. Then MIUI gives you a short tour of how things work.